Sizes
How can you find the right size?
Chances are when you bought your stilettos you were focused on how long and sexy they made your legs look, not on the exact measurement of the heel tip!
But choosing the right heeltip size is crucial for keeping those sexy shoes in action.
We've made it super easy to find the right size heeltip for your shoe. Simply print out our type sheet, and hold your heel against the print out: select the size that matches your existing heeltip. Make sure you print out the page though, as holding up your shoe to the screen will give a false reading!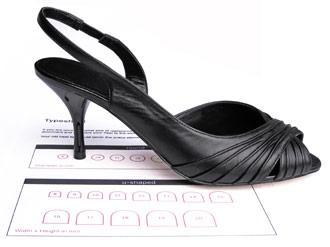 Download type sheet (Letter size - use this if you're in the USA)
Download type sheet (A4 size - use this for most other countries)
Do you have sizes other than what's on your type sheet?
The short answer is, no.
If you're after a size which we do not show on our type sheet, you can always select the next closest size and trim any excess material down with a dremel tool. But we only recommend this if you are comfortable using power tools!